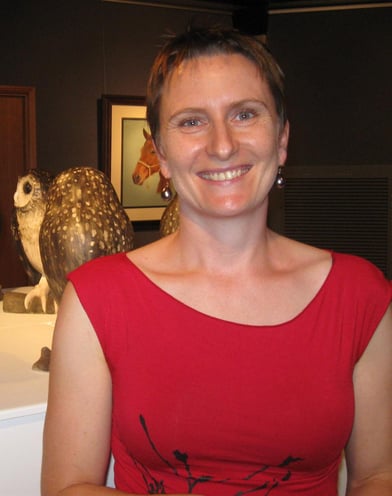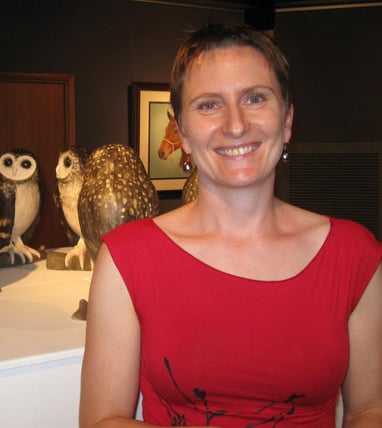 Gabrielle (Gabi) Sturman is an established 3D artist who has been working in her field for over 25 years, regularly exhibiting in solo and in group national and local exhibitions. Gabi obtained her Bachelor of Arts (Ceramic Design) with 1st class honours from Monash University in 1996. Gabi was awarded an APA scholarship for a Master of Arts, which she completed in 2002.
Since moving to the Atherton Tablelands in 2007, Gabi's work has been greatly influenced by the amazing biodiversity of the rainforests of far North Queensland.
"My sculptural artwork is inspired by the wet tropics environment in which I live. My practice explores the concept of cultural value and the relevance of nature in contemporary society. Climate change, displaced and endangered species and how we value the natural landscape, are of particular interest to me. Through sculptural representations of the flora and fauna in singular works and collective installations, I aim to create visual narratives about the complicated relationships between nature and humanity."
Gabi lives near Yungaburra on the Atherton Tablelands with her husband Michael and shares her time between her visual arts practice and sustainably farming raspberries using regenerative farming practices.
NAME: Gabrielle Sieglinde Sturman (Gabi)
EDUCATION:
1997- 2002 Master of Arts (Ceramic Design), Monash University, Caulfield, Victoria
1993-1996 Bachelor of Arts (Honours 1st Class) Ceramic Design, Monash University, Caulfield
SOLO EXHIBITIONS:
2019 "Seasonal sittings of Tiny Art", Judith Wright Contemporary Arts Centre, Brisbane
2009 "Rainforest studies", Post Office Gallery, Atherton, Queensland
2001 Masters Exhibition, Monash University, Caulfield, Victoria
INTERNATIONAL EXHIBITIONS:
1998 "Talente", International Trade Fair, Munich, Germany
EXHIBITIONS:
2021 "Call of the Running Tide" Environmental Sculpture Exhibition, Port Douglas, Qld
2020 "Survival" Exhibition with Alison Faigneiz, Tablelands Regional Gallery, Atherton, Qld
2020, 2021 "Flame" Tanks Arts Centre, Cairns, Queensland
2019 "Australia Wild" QLD Wildlife Artists Society Exhibition, Mt Cootha, Queensland
2016, 2018 "North Queensland Ceramic Art Awards", Pinnacles Gallery, Townsville, Queensland
2013, 2015 "Strand Ephemera" Perc Tucker Gallery, Townsville, Queensland
2014 "Gold Coast International Ceramic Art Award", Gold Coast, Queensland
2014 "Made from scratch" Museum of Tropical Queensland, Townsville, Queensland
2011, 2016, 2018 "Melting Pot", Cairns Regional Gallery, Cairns, Queensland
2009 - 2021 "Yungaburra Village Artists", Tableland Regional Gallery, Atherton, Queensland
2008 "Earth Links", Cairns Regional Gallery, Cairns, Queensland
2004 "Spring Clean Expo", ARTIFACT Gallery, South Melbourne, Victoria
1996 "Fresh", Craft Victoria Student Awards, Gertrude Street, Fitzroy, Victoria
1996 "Quatro", State Gallery, Meat Market Craft Centre, North Melbourne
1995 "Fresh", Craft Victoria Student Awards, 101 Collins Street, Melbourne
1995 Walker's Ceramic Award Exhibition, Victorian Arts Centre, Melbourne
AWARDS:
2019 Winner of 'Best 3D' "Australia Wild" QLD Wildlife Artists Society Exhibition, Mt Cootha
2016 Winner of the Hanger's Prize, Tablelands Regional Gallery, Atherton, Queensland
2015 RADF Grant to attend Bronze and Aluminium Casting workshop at Uni. Southern QLD
2014 Winner of the NRM Terrain logo design competition
1995 Australian Postgraduate Award Scholarship
1995 Highly Commended, Walker's Ceramic Award Exhibition, Melbourne Arts Centre
COMMUNITY PROJECTS:
2019-2021 Mentor, FLAME – International Women's Day Mentorship Project
2015 Consulting Artist, Cook Street Wall Mural, Atherton, Queensland
2014 "CAFÉ Project" Creative Arts for Everyone - working with disadvantaged youth, QLD
2012 'Year 7 Rainforest mural' Yungaburra State School, Queensland
2010 "Centenary Mosaic" Opened by the Governor of Queensland in Yungaburra, QLD
PUBLIC COMMISSIONS:
2013 Malanda Information Centre, Queensland
2010 Atherton International Club, Queensland
PROFESSIONAL ASSOCIATION:
2020 - present Director, Atherton Tablelands Foundation
2013 - 2020 Tablelands Regional Gallery Advisory Committee
2007 - 2021 Coordinator of the 'Yungaburra Village Artists'
PROFESSIONAL ARTS EMPLOYMENT:
2014 - 2015 Examination of Honours submissions, Arts and Creative Media, James Cook University, Cairns, Queensland
Ongoing Teaching art and facilitating workshops
PUBLICATIONS:
2013 "500 PRINTS ON CLAY, an inspiring collection of image transfer" 'Lake Eacham Lightscape' p156. Lark Crafts Publications, March 2013. ISBN-13: 9781454703310 1995
1997 "COLOURING TRANSLUCENT BONE CHINA", Pottery In Australia, Vol. 36, Number 2, Winter